Help us save resources!
You can't always see them, but many old or broken appliances contain valuable raw materials that are far too good for the bin, or too hazardous for landfill.
That's why a sensible law was recently introduced in Germany to regulate what happens to old or broken electrical appliances. The official name translates as 'Law for the Putting into Circulation, Return and Environment-friendly Disposal of Electrical and Electronic Appliances' – or 'Electro-Law' for short.
This law states that as a consumer, you are now obliged to dispose of your old appliances properly instead of just dumping them in the bin. It's easy.
Since 2005, all new electrical and electronic appliances display a crossed-out rubbish bin as a symbol for conserving natural resources and environmental protection.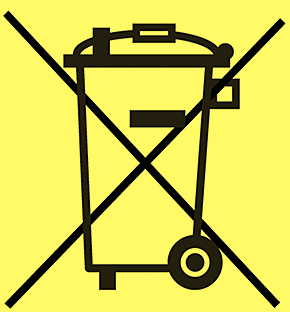 So when an appliance like this gives up the ghost, the Electro-Law regulates clearly what happens next. Here's a brief summary:
Bad news for rubbish bins.
As of 25 June 2016, all dealers in Germany are now obliged to accept old electrical appliances from consumer households for disposal.
From dealer to disposer.
The dealers collect the returned appliances and prepare them for transportation to special facilities that can retrieve raw materials for use in new appliances. In many cases, these facilities can give old appliances a new lease of life instead; mobile phones, PCs and notebooks in particular have a good chance of getting a second or even third lifecycle.
To find out more about the Electro-Law, visit our service partner WEEE Return.
Which appliances can I return, and how?
0:1 Principle
We accept all small appliances up to 25 cm long free of charge. That means things like phones, smart phones, our curling tong and hairdryers, electric toothbrushes, small computer displays and more besides.
To return this kind of appliance, just call our service hotline +49(211) – 542 822 – 900 or email us at service@carrera.de for step-by-step instructions.
1:1 Principle
We accept all larger appliances providing you order something similar from us in return. For example, you could return an old hairdryer of any brand as long as you order a new CARRERA hairdryer.
To do this, just purchase your new CARRERA appliance at www.carrera.de or from a dealer, then either call our service team on +49(211) – 542 822 – 900 or email them at service@carrera.de. They'll tell you what to do next.
It would be great if you could register your product return using this link, which also provides a list of all return depots near where you are. If you'd rather send us your old appliance by post, please contact our service team using the contact data above.
Our service partner WEEE Return will then make sure your appliance is recycled or disposed of in an environment-friendly way.