Stand mixer №657
Passion has a start button.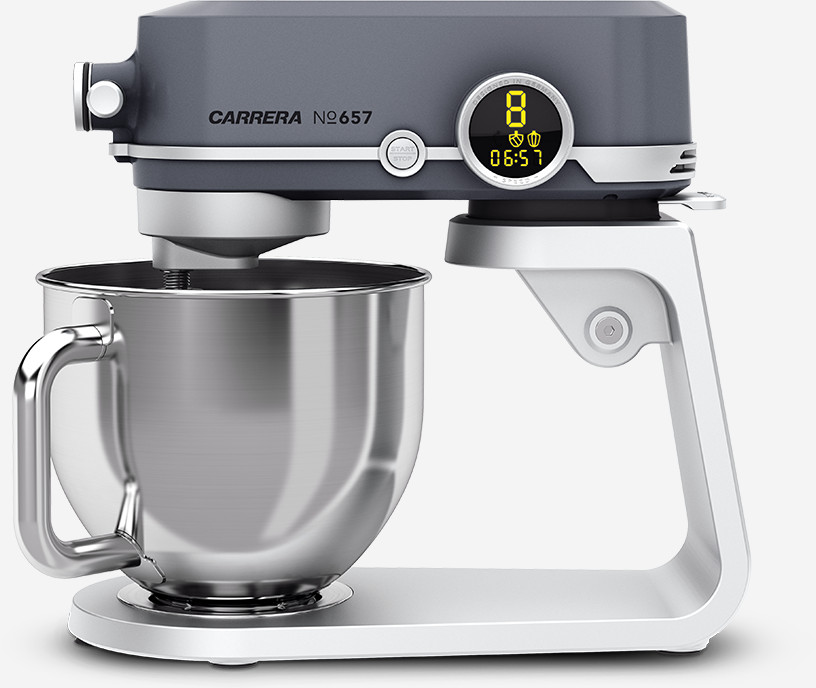 Stirs hearts.
Kneads dough.

Mmmhh, delicious! Nothing smells or tastes better than home-made bread or cupcakes made from fresh ingredients you chose yourself. And with the right kitchen tool, they're quick and easy to make. All you need is a good stand mixer that can handle tough dough, with a front drive shaft for a range of attachments. A sturdy, high quality all-rounder that can master any challenge – and is easy to clean afterwards – is the perfect recipe for happiness. For you, your partner, and your guests as well.
It's all in
the mix.

Our CARRERA stand mixer has one of the most powerful motors in its class, teamed with a high quality planetary drive. Together, this dynamic duo can power through up to 1.5 kg of thick, ingredient-rich dough to create a consistent, oven-ready mix. Your CARRERA stand mixer unfolds its 800 W of power smoothly and extremely quietly. You'll soon be looking for a new excuse to use it every day.
Easy to use.
Remember your first driving lesson? Relax – your CARRERA stand mixer has clear, intuitive controls instead. The digital dial with integrated LED display gives you fingertip control over the stirring unit and front drive shaft of your 800 watt, 8-speed machine. It even tells you which stir attachments perform best at any given speed.
Highest safety standards.
The only ones we know.

Your CARRERA stand mixer is a real pro all round, especially safety-wise. We configured an active safety pack that covers all the bases:
Rock steady
One look at the generous aluminium base tells you how stable this food processor is. The fact that it weighs a hefty 10 kg also helps, as do the non-slip feet and powerful suction pad. However wild things get in your kitchen, this CARRERA stand mixer won't budge.
Do more
The front drive shaft and optional attachments open up new horizons. Ready to experiment? Slot in an attachment, lock it and go!
Meat grinder
Why not make your own vegetarian spreads, delicious fillings or even spritz cookies? It doesn't always have to be meat.
3 pasta tools
Fresh pasta all'italiana? We supply the rolling pin, fettuccini cutter and spaghetti cutter.
Slicer/Grater
Why waste time chopping? Grating cheese or veggies can be so easy – and your fingertips stay safe too.