Hot Air Brush №535
Be your own stylist.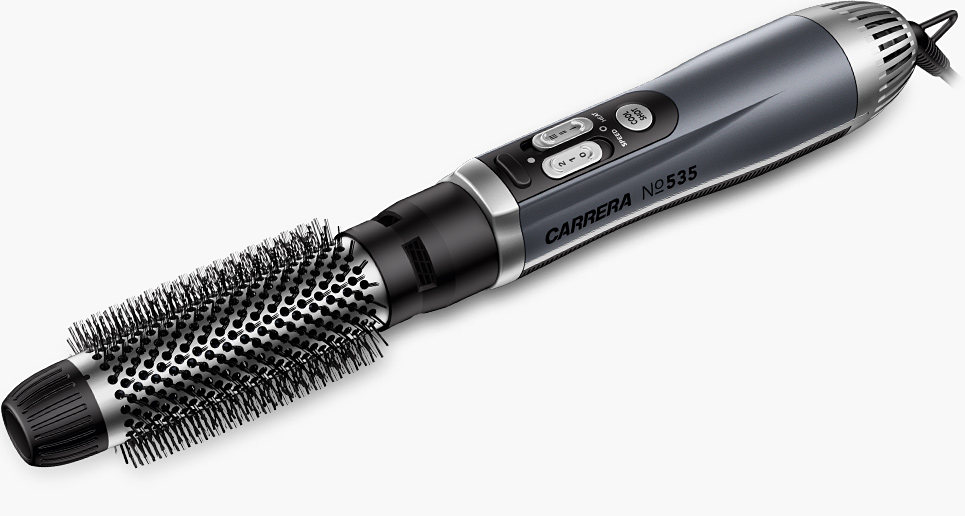 Good stylists can wield a hairdryer and brush at the same time effortlessly. But to style your own hair you either need a third arm, or you buy a hot air brush. For professional home styling, choose one with plenty of power, ionisation, ceramic-coated round brush attachments, and a choice of heat and speed settings. Order your full-feature product now in our web shop.
Round brush attachment ø 22 mm for consistent curls
and volume right from the hairline. Retractable bristles
for safe styling – perfect for beginners.


Round brush attachment ø 50 mm for structured
volume even in long hair, plus generous
high-volume waves.


Round brush attachment ø 38 mm for long-lasting XXL volume
with mid-length hair, and consistent medium-size curls.


Use the styling nozzle to remove excess moisture before
you style. Or to dry your hair completely, since you
have 1200 watts of power.

Cool Shot adds the finishing touches to a hot air brush.
Warm first, then cold' is the order of the day when you're styling (less so when you shower). The Cool Shot button fixates styled strands quickly and effectively. It also adds a steady supply of argan oil and keratin to the airstream – for smoother hair and a silky sheen, together with the ions.

Hot air brush №535. It understands your hair.
One-size-fits-all is a really stupid idea for a hot air brush. We designed something better: a control unit with 2 speeds and 3 temperature settings. Now you can mix-and-match to your heart's content while you find the perfect combination for your hair, and your plans.